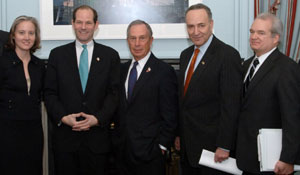 Economy Recovery and Financial Market Competitiveness
Effective and efficient financial markets that also are well regulated and governed are a key building block to much-needed economy recovery globally. While every country is different, there are at least 10 universal lessons for thriving financial centers that I have observed throughout my career that need to be considered by all interested stakeholders. Those are:
Political alignment within and across a government is critical (local, state/provincial, national).
A public-private partnership and deliberate process are key success factors.
A comprehensive, fact-based diagnostic is essential.
A shared vision and actionable strategy are mandatory.
Leadership with accountability is critical.
The collective ability to implement and execute effectively and efficiently over time is needed.
Understanding universal truths is imperative (e.g., capital and businesses tend to migrate to where they are most welcomed).
Markets are dynamic and changing constantly, requiring monitoring, measuring, and the flexibility to adapt as needed.
Financial crises and dangerous markets are also opportunities for improvement in financial centers and economies.
Balancing prudent legal and regulatory standards with responsiveness to end users' needs and the need to grow an economy is a final success factor that cannot be ignored.