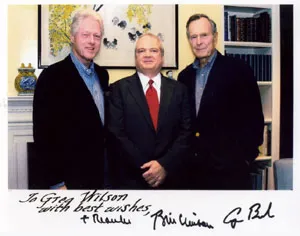 Providing financial services policy and regulatory expertise
Greg Wilson has provided distinctive advisory and consulting services in financial services policy and regulation throughout his 40-year professional career. Recently, his primary client focus has been on ongoing policy and regulatory reforms after the financial crisis, primarily in the United States, and the ever-shifting regulatory landscape in a growing digital economy. Previously, Greg served as an external adviser to the Financial Services Roundtable and the Bipartisan Policy Center in Washington, D.C. He has served as an independent director on the boards of Atlantic Trust Company, N.A., a wholly-owned subsidiary of CIBC, and L.F. Capital Acquisition.
Over the years, Greg has helped both foreign and domestic banks manage their U.S. financial regulatory and governance risk, assisted nonbanks entering the U.S. market through de novo banks, advised CEOs on how to manage a financial crisis, and advised leaders of financial services trade associations on critical strategy, public policy, regulatory, and organizational issues. He was co-director of The Financial Services Roundtable's Blue Ribbon Commission on Financial Competitiveness in 2007.
During almost thirty years at McKinsey & Company, including as a partner and senior adviser, Greg served numerous public sector clients around the world, including central bankers, ministers of finance, and financial regulators on issues of financial crisis management, regulatory reform, financial sector restructuring, and financial center competitiveness. His clients have included the public-private endeavor for a small financial center, a capital markets regulator in the Gulf, ten central banks and bank restructuring agencies in Asia, North Africa, and Latin America, a securities regulator in North America, and a U.S. bank regulator. Greg also served a North American blue-ribbon, financial services task force to help it better understand the implications of market changes for consumers, financial institutions, regulators, and policy makers. Greg has worked in more than twenty-five countries in the developed world and emerging markets.
Greg is the author of Managing to the New Regulatory Reality – Doing Business After the Dodd-Frank Act – (John Wiley & Sons, 2011). He also is the co-author of Dangerous Markets: Managing in Financial Crises (John Wiley & Sons, 2001), and has been a frequent contributor to the McKinsey Quarterly and other publications. His most recent article, "The Impact of Banking Regulation on Technological Innovation," was published in The Technological Revolution in Financial Services – How Banks, Fintechs, and Consumers Win Together, edited by Michael R. King and Richard Nesbitt (2020).