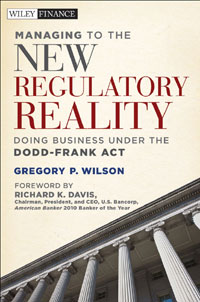 My books on financial services policy and regulation after financial crises
Managing to the New Regulatory Reality Doing Business under the Dodd-Frank Act Now more than ever, navigating the new U.S. and global financial regulations is paramount for the survival of many institutions. In this new book, Gregory Wilson provides a roadmap to help companies fundamentally alter the way they compete and the way they serve their customers, as well as manage the unique political and regulatory risks that come along with more than 250 of the government's new rules in the Dodd-Frank Act.
The author examines the immediate reactions of policymakers and regulators as the crisis unfolded in 2008 in the United States and around the world and analyzes the impact and fall-out of the legislation proposed by the Obama Administration and enacted by the U.S. Congress in 2010. He offers ten practical, common sense lessons primarily for financial institution managements and boards, showing how financial services CEOs, senior executives, and their boards of directors can be winners by managing their unique risks in this new regulatory reality more proactively and more effectively than in the past.
Dangerous Markets: Managing in Financial Crises
The authors draw on their work with McKinsey & Company in assisting corporate and public officials to overcome the effects of financial crises in more than a dozen countries, including the United States, Thailand, Korea, Indonesia, Jamaica, Mexico, Ecuador, Colombia, and Argentina. Their approach, developed on the front lines of managing through financial crises, walks corporate executives and investors through the five crucial steps to survival and success.
"In short," say Barton, Newell, and Wilson, "financial crises are simply too important and too costly to shareholders and societies to leave unmanaged." Dangerous Markets is both a blueprint for surviving and flourishing in crises as well as a call to action for both corporate and government officials to reform their financial systems before devastating problems hit.